The playground is monitored by a rota of volunteers to whom the Parish Council is very grateful. 
The volunteers inspect the condition of the play equipment, reporting back to the Parish Council. They also empty the litter bins situated in the playground as these playground bins are not the responsibility of Dorset Council. 
Recently, volunteers have been distressed to find that several of the bins have been used to dispose of dog waste despite notices clearly attached to the bins. 
In an area designated for children, it is not acceptable to have either dog waste or dirty nappies in the bins as it is clearly a health hazard.  
One of the bins, situated by the Westbury gate, previously damaged, was so contaminated by dog waste that the volunteers decided to remove it prior to asking the Parish Council for funds to replace it.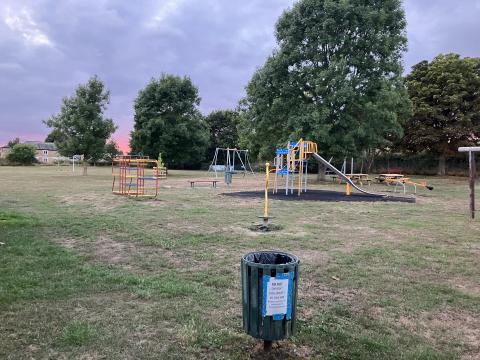 Bradford Abbas can be proud of the fact that, on the whole, the issue of dog fouling is not the problem it once was and is far better than in some other local parishes. Bradford Abbas has   responsible dog owners and the Parish Council would take this opportunity to remind them not to use the bins in the playground and that there are plenty of black bins, serviced regularly by Dorset Council that should be used instead. 
Many thanks then, both to the volunteers and to the responsible dog owners.