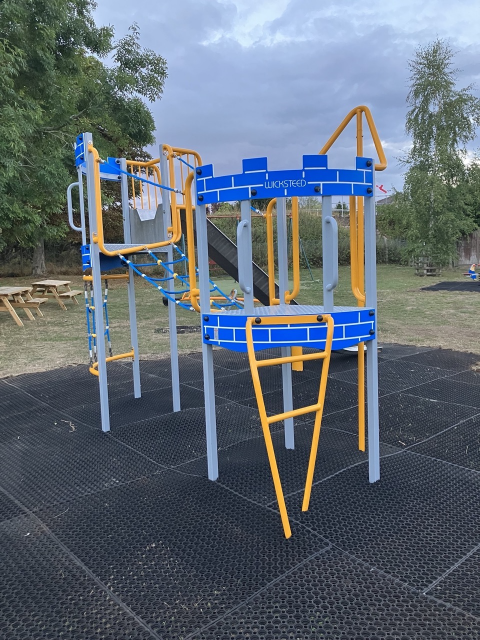 The Pennant,  Edition 550 September 2022
Printed courtesy of Mrs Annette Haynes as a service to the community
Please email your entries for the October 2022 issue to ThePennant@mail.com by 21st September 2022
Bradford Abbas Parish Council
FREE Defibrillator Training:  Learn how to use an AED. The course has been specifically designed for anyone living or working within a community, to familiarise yourself with basic life support and using the two AEDs in the village. The training is scheduled for Wednesday 28th September 2022 at 7pm in the village hall and should last approximately 1 ½ hrs. All ages welcome.

Hopefully by the time this Pennant is distributed we will have the new Wicksteed Galahad installed in the playground. Many, many thanks go to the Gardeners Club and St Mary's Community Trust for their donations toward the project and, of course, everyone who supplied and bought cakes at the cake sales. 
St. Mary's Community Trust - THE CHURCH THAT ROCKS 2
Saturday 10th September (live music from 3pm until 9pm) in the village playing field.
Licensed bar. BBQ. Peter Littlewood, Leone Drayton, Who Let The Ducks Out and the Wriggle Valley Jazz Band will all be performing. (And when we've finished, there will be karaoke in the pub.)
If you can help with marshalling, site set-up or clearing, we'd be grateful to hear from you. Please speak to one of us.
Jo, Alan, Rob, Ruth, Trevor and Gary
The ST MARY'S COMMUNITY TRUST team, email: info@StMarysWeekBA.org.uk. 
Bradford Abbas Variety Club
Forward Notice - the Bradford Abbas Variety Club AGM will be held on Sunday 2nd October 7pm at Bradford Abbas Sports and Social Club.
After a hiatus of two years, we hope to be back with a bang in 2023.
Please come along to the AGM to find out all about us, our Variety Show planning starts now!
We are calling all existing and new members to come along and find out what's going on. 
There is a role for everyone; from actually being on stage, to being part of the crew, committee, sketch writers and producers. 
We welcome new ideas and new talent.
If you need any further information, please contact Merys on 07834 547578
Bradford Abbas History Society
The next meeting will be in the Village Hall on Tuesday 27th September at 2.30pm and Thursday 29th September at 7.30pm. Tony White will be giving a presentation on the Life and Times of Professor James Buckman F.G.S. Meetings
are open to all at a cost of £2 per person per meeting or free to History Society members and those 16 and under.
Motor Bike Run
People of Bradford Abbas, would anyone be interested in a Sunday morning motor bike run to West Bay? if you have a motorbike and fancy a run out then let's get together. After talking to a few people at the club I believe there are
quite a few of us owning bikes but not getting out very much, so let's change that and meet up. We could meet at the club in the car park and finish up there with a cool drink. If interested let me know. Michelle Prout, tel: 01935848861.
Bradford Abbas Women's Institute
Our regular meeting in September will take place at 7.30pm. on Tuesday 20th at the Village Hall.  We will have an update on the progress of the building of a breast cancer unit at Yeovil Hospital for which we have been collecting unwanted jewellery.  All welcome – come and join us for an interesting evening.
Yeovil Bowls Club
Thinking about a new hobby, a bit more exercise? Want to make new friends? Want to get out of the house a bit more? Need a new sport? A sport for all ages, shapes and sizes? Bowls might just be what you're looking for!
Yeovil Bowls club has lady's teams, men's teams, mixed teams, visually-impaired teams. We play indoor and outdoor league matches, friendlies, County and National competitions, as well as internal games and club nights. There is also a full and varied social calendar, a newly refurbished bar and lounge area, and two tours every year! Whether you want to play serious competitive sport, or a friendly social chatty get together, Yeovil bowls club offers everything in between.
You might have seen Bowls at the Commonwealth games, or the indoor version on the telly back in January. Well now is your chance to give it a go! We offer a taster session followed by lessons from experienced coaches, all at no cost!
Come and see our fantastic indoor rinks, the outdoor green, our lounge, function room, and of course meet some of us here at The Yeovil Bowls Club. We are just behind the new car park at the Hospital. We have lots of free parking as well!
Drop me an email or give me a ring and let's get you started with Bowls.
Email; steve91257@gmail.com, Mobile: 07900218601
Mixed Ability Yoga
Yoga has a new home, day and time. Come join us at Bradford Abbas Village Hall on Saturday mornings from 9.15--10.15am. These are friendly and fun classes, suitable for most. Start your weekend with movement and relaxation. £8.50 per session. For more information email emmarileyyoga@gmail.com, message on Facebook @emmarileyyoga or call 07884246550.  
Bradford Abbas Sports & Recreational Club 
New members are always welcome.  The Club Function Room can be hired for Private Parties.  For bookings, please contact the club, Tel: (01935) 420575, or see our website: www.bradfordabbasclub.co.uk
Crib Morning - Mondays from 10:15am. Tea, coffee and lots of laughs are available
Bingo - Monday evenings - Starting at 6:45 pm with eyes down at 7:15pm
Arts & Crafts - Wednesday evenings from 7:00pm. If you are feeling artistic, why not join like minds.
Cycling Club - Wednesday evenings. Meet at 6:45pm. We cater for all abilities and welcome ladies and children to join us for a leisurely cycle ride of various distances.
Bat and Trap - Wednesdays from 7:45pm - Join us to learn this ancient game and have some fun. 
Happy Hour - Every Sunday we are open from 1:00pm-5:00pm and we have a happy hour 3:00pm-4:00pm
Yeovil Railway Centre at Yeovil Junction
Sunday 4th September: Our little red steam engine Pectin is now back in service after a long absence and will be giving train rides along the historic 1/3rd mile ex-GWR Clifton Maybank branch line.  We will be using the coach, which is accessible using a ramp for standard-sized wheelchairs.
The gates open at 10.30am with the first train ride at 11.00am
Marshall of Paw Patrol will make regular appearances during the day.
Entrance, which include free parking on our site is £10 for adult taxpayers eligible and willing to add a voluntary donation so we can claim gift aid (making your admission worth £12.50) otherwise £9.00, Children aged 5 to 15 £4.50 with gift aid, otherwise £4.00, and children under 5 and members come in free.  One child is admitted free with a full paying adult.
Other attractions include the miniature railway, our shop on platform 3, light refreshments, our model railway and the Chard signalling panel.
Further details on our website   yeovilrailway.freeservers.com  
Sunday 11th September:  Model railway swapmeet 10.30am to 2.30pm.  If model railways are your thing then this is an opportunity to swap, buy or sell model railwayana, it is NOT a model railway show.  Light refreshments are available and the shop on platform 3 will be open.
Sunday 18th September:  Steam Train Day with Pectin. Details as Sept 4th No Paw Patrol but as a special treat come along and meet Garwynn's Reptiles and Bugs.
Advance notice – 
Halloween Evenings on Saturday 29th and Monday 31st October.
Tea with Santa, Saturday 3rd and 10th December
Santa Specials Sunday 4th and 11th, Saturday 17th, Sunday 18th, Wednesday 21st and Friday 23rd bookings now open.
Sherborne Bradford Abbas Camera Club
Tuesday 13th September:  AGM plus members' summer images submitted for discussion

Thursday 15th September: photoshoot at Beer, a quaint English seaside village
Tuesday 22nd September:  viewing the SBACC photos for the Bradford Abbas Shield with 5 prints and 5 digital images
The Camera Club meets at Bradford Abbas Village Hall at 7.30pm on the second and fourth Tuesday in the month.  Further information at sbacameraclub.co.uk
Telephone Box News
Many thanks to all those of you who have recently donated books to the telephone box. We will endeavour to keep the collection 'refreshed' on a regular basis. Please note that while books will always be welcome, we no longer require DVDs.
St. Mary's Church, Bradford Abbas
SERVICES IN SEPTEMBER and beyond 
EVERYBODY IS WELCOME – PLEASE DO COME ALONG, WE ARE ALWAYS DELIGHTED TO SEE NEW FACES. 
SUNDAY 4TH SEPTEMBER 10am Welcome to Worship (lay-led)
SUNDAY 18TH SEPTEMBER 10am Our patronal service (when we honour The Virgin Mary, after whom our church is named)
SUNDAY 9TH OCTOBER 10am Welcome to Worship (lay-led)
SUNDAY 16TH OCTOBER 10am Harvest Service
On weekends when we are without a service in Bradford Abbas, we encourage villagers to join a service at one of our neighbouring churches. These are posted on the notice boards outside the church.
THE HEART OF THE COMMUNITY
The PCC is the committee of the church that looks after it on behalf of everybody, but it is everybody's church, your
church. Aside from services, we have hot drinks available everyday – and the Saturday morning café regularly has about 20 people coming. Why not join us for a drink and a chat? This year we have held baptisms, weddings and funerals. We have had a cooked breakfast event, afternoon tea, two choir concerts, live music on the church lawn and a rock band inside. We want the church to be the very heart of our community.
The PCC have recently decided to press ahead with some important works on the roof to stop water seeping in and damaging the building. We will also be trying out an innovative heating system in part of the church with the ultimate aim of making it a comfortable place to attend services or social events without costing the earth every time we switch the heaters on.
We know there are many people in the village who love our historic building and its churchyard, even if a Sunday service is not their thing. If you are one of those people, perhaps you would consider making a regular contribution to help keep the church alive for everybody in our village. If so, please speak to churchwarden Gary Siggins (07799 430400) or any other member of the PCC for details of how you can ensure the church will be there for the future generations.
Thank you.
A Message from the Vicar  - God  will provide
Back in January when I had only just joined the Diocese, I found myself fielding the question about whether we need to fundraise at all, since 'God will provide'. "So Anna, what shall we do – sit back and relax, pray for a miracle, if God will provide?". It was a bit of a baptism by fire, I might say. I wasn't ready, and I didn't have an answer.
The question came up again at Sherborne Deanery Synod, where it was much more gently put. How could we convince those who have faith that God will provide, to support new fundraising initiatives? It reminded me of the conversation from January. What do I think about faith and fundraising? The seed was sown in my thoughts once again, as I started the drive home, through our beautiful and breath-taking countryside.
I am often blown away by the beauty of our landscape; more now than ever since becoming a Christian. How can we look at the land, and not be in total awe of it? Trees leaf and flowers bloom and we need do nothing except watch. It rains, the sun shines and things grow in front of our very eyes. It is a complete miracle to me.
I am lucky to be able to look at it most days as I travel to visit our churches. In the old days I might have got stuck behind a tractor on a country lane and rolled my eyes at the inevitable delay. Now I find myself looking in awe at the people driving these huge pieces of machinery. I have caught myself thinking – 'Now there is someone doing the real work'. Growing our food. Working with nature, and all God provides to feed us all.
And then a thought occurred to me (or was God talking to me? Usually the latter, I am sure.)
What if the farmer saw the seed fall to the ground, the rain fall, the sun shine and the plant grow, and he thought, this is great! I don't need to do anything. God will provide.
At harvest time, surely he would look at a field with barely enough to feed his family. Could he be cross at God? God said he would provide after all.
What would God tell him? Would God say – I provided you all you need. Including the tools and the imagination and wisdom. But you did nothing. You expected it all from me, without your hard labour. You did not prepare the land, plough the field, sow the seeds, pull out the weeds, nurture and feed the seedlings. You did not use the tools, the imagination and the wisdom I gave you. And so your harvest is small. Could the farmer still be cross at his poor harvest?
And this is how it feels to me as a fundraiser. As a Giving Advisor. We have all that we need. Financially and materially, I am sure many of us have more than we need. These are our seeds to grow. Just like the farmer; God gave us the tools, the imagination and the wisdom to sow those seeds, and to help them grow into so much more.
God has provided. Blessings, Anna