Residents are enthusiastically taking up the offer of the UK government to pay for  their premises in Bradford Abbas  to be connected by fibre optic cable to  ultra-fast internet.
[Update 26/1/21] People who'd pledged their vouchers already are receiving emails from gigabit.vouchers@notifications.service.gov.uk 
So, if you've already made your pledge, don't delay in responding to the email sent from gigabit.vouchers@notifications.service.gov.uk that contains a link to gigabitvoucher.culture.gov.uk where you confirm your pledge.
We're almost, but not quite there yet! Openreach need a few more of us to sign up. if we can only get a few more people to pledge their government-funded voucher, residents' broadband could be jumping from a typical 20 Mbps now, to a possible 900 Mbps !
It doesn't cost anything to pledge at https://www.openreach.com/connect-my-community
Your pledge attracts £1,500 (or £3,500 for a business) of government money paid to Openreach. 
Should Bradford Abbas meet the target, people making the pledge are expected to connect to the internet via any available service providers like BT, Sky, EE, etc.
As I said,  we're almost but not quite there yet! Openreach need a few more of us to sign up.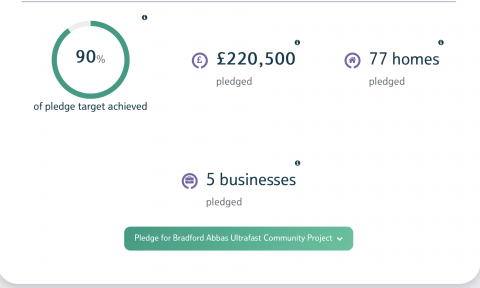 Who's it for?
The Bradford Abbas Ultrafast Community Project will be of substantial benefit to many residents of Bradford Abbas now and in the next few years, especially those who:
 are in a household with several members accessing the internet at the same time - for example streaming TV shows; keeping in touch with friends and family using Skype, FaceTime, or Zoom; multi-player gaming; etc.
work from home
run a business from their premises
online learning at primary or secondary school
distance learning their uni or other courses
Ultra HD video (UHD - 4k) 
use remote Health Diagnosis, Consultation, and Treatment.
Gigabit refers to the 1,000Mbps maximum bandwidth (connection speed) of the Bradford Abbas Ultrafast Community Project.
Typical broadband uses and the bandwidths they require are listed on our web page.
Costs vs benefits
Different bandwidths can be purchased once the Gigabit fibre is installed to your premises.
Sevenfold bandwidth example
Instead of a download speed of 20Mbps - which is typical at around £25 per month in Bradford Abbas - a broadband product connecting at 145Mbps would cost around £47 per month.
This example offers something like 7 x current bandwidth for 1.8 x the cost.
45-fold bandwidth  example
Or a 900Mbps product at £60-£70 offers something like 45 x current bandwidth at 2.5 x to 2.75 x the cost.
More about typical costs / benefits and broadband product "bundles" are mentioned on our web page 
here.
What you need to do
Go to the OpenReach Gigabit Voucher Page.
Verify that your postcode is eligible for the funding
Pledge your Gigabit Voucher to OpenReach  
Encourage your neighbours to do the same as, to receive the government funding, a minimum number of pledges is required.
Should you pledge your voucher:
You are not obliged to upgrade if there are insufficient pledges to the Bradford Abbas Ultrafast Community Project.
You are expected to upgrade if the project is successful. 
You'll be able to order broadband from any service provider operating in our area.